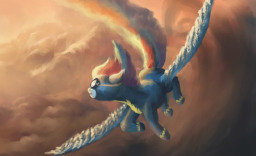 The Drunken Sailor: Oh yeah, sequel's out:
Gaia
----------------------------------------------------------------------
Is it so hard to be normal?
Anyone can be normal, normality is as easy as walking and it comes just as easily. Just follow in the well beaten path like the majority, keep your head down, and don't act out of turn.
Being amazing, yeah that takes effort. To express what and who you are despite what a judgmental world you live in, even though there are those who will mock you, who will crush your hopes of success wether from spite, jealousy, or revenge. But it can be done with enough courage.
What is the most difficult, almost impossible. Is to be amazing but not extraordinary. To be admired but not alienated. For people to know your name but to say it with a hint of awe, not appreciation or fear. Luckily most never have a change to face this struggle.
I, am not a lucky Pegasus.
Chapters (1)