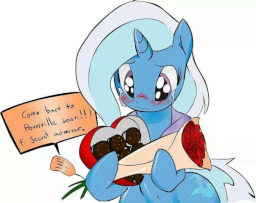 Trixie has been hiding something from her marefriend for quite some time. She fears that coming clean will result in the hatred of her best friend and partner.
Hopefully a one-shot shipfic starring Lyra Heartstrings and Trixie Lulamoon.
That doesn't mean there isn't a sequel in the works. I've played around with this idea for a while.
Once again, thanks to Phenrys for pre-reading and finding the cover image (and I'll gladly source it once I find out who the artist is).
Chapters (1)