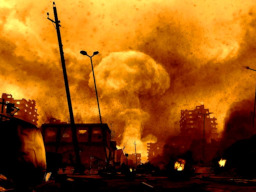 The world wasn't always like this, rather you believe it or not, there was a time. A time when you got help, when you weren't shoot at and killing wasn't an everyday thing. Now all that's changed for the worse ...but what lead up to this, how did it start? Well, I can tell you ...because I was there, I saw the world get swallowed up in balefire and radiation.
From one world, to another. I was taken out of the frying pan and thrown straight into the fire. The thing was that back then, I didn't even know it, until it was too late.
Looks like we made it to the second part, that means a new theme song~!
Chapters (13)