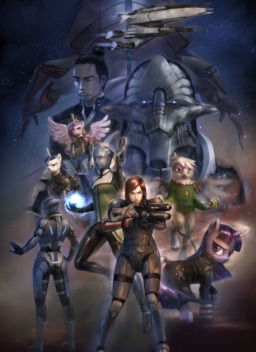 Source
This story is a sequel to Mass Effect: Shattered Record, Broken Wings
---
When a Prothean Beacon is unearthed on Eden Prime, Commander Shepard and Flying Officer Rainbow Dash are sent to oversee its transfer to the Citadel. That simple mission spirals quickly out of control when they find the colony planet in ruins and a vision of death and destruction awaiting them. When the rogue Turian SPECTRE, Saren Arterius, tries to kill them, a galactic manhunt begins to bring him to justice. What they uncover during the search will shake the galaxy to its core. It is just the beginning, and a storm is gathering.
Special Thanks to Markotonc for the cover art, and Dorath for the support on Patreon!
Featured February 18, 2015!
A Mass Effect/MLP:FiM Crossover, the Third Story in the "First Meetings Universe"
1. Mass Effect: Shepard and the Rainbows
2. Mass Effect: Shattered Record, Broken Wings
3. Mass Effect: Gathering Storm (Mass Effect One)
4. Mass Effect: One Wrong Step (Equestria Girls Side Story)
5. Mass Effect: Harmony Lost
6. Mass Effect: Fight for the Lost (Mass Effect Two)
7. Mass Effect: The Darkness Breached (Mass Effect Three)
A. Mass Effect: Side Stories
Out of the night that covers me,
Black as the pit from pole to pole,
I thank whatever gods may be
For my unconquerable soul.
In the fell clutch of circumstance
I have not winced nor cried aloud.
Under the bludgeonings of chance
My head is bloody, but unbowed.
Beyond this place of wrath and tears
Looms but the Horror of the shade,
And yet the menace of the years
Finds and shall find me unafraid.
It matters not how straight the gate,
How charged with punishments the scroll,
I am the master of my fate,
I am the captain of my soul.
Chapters (46)