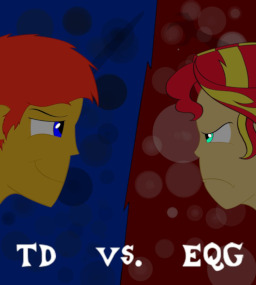 It has been two years since the human TD ascended to become Princess Antares, and he is settling into his role as one of the rulers of Equestria quite nicely. His loyal guard is strong, his palace is awe-inspiring, and he is beloved and worshiped by ponies everywhere. However, when the Element of Magic is stolen by an old student of Celestia's and taken through a magic mirror while he is visiting the Crystal Empire with the Mane Six, he discovers that another world has been very close by during his whole reign. A rather familiar world at that. Deciding that he is the best pony for the job, he takes his two best soldiers through the portal with him to get the Element back. So, pretending to be a foreign exchange student from Canada, he infiltrates of all things... a high school.
He is less than pleased.
Buy a print copy of the original here!
Edited by the magnificent Strike89
Cover art by the perpetually awesome SoaringSketches
Chapters (27)