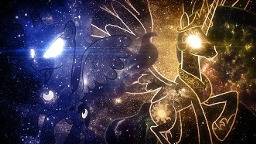 It's time once again for Nightmare Night and the citizens of Ponyville are ready for another night of candy, costumes, ghost stories, and more. After Twilight Sparkle taught her the true meaning of Nightmare Night one year prior, Princess Luna takes the day off from her royal duties and joins in the festivities. But when Ponyville suddenly comes under attack by a mysterious force, Luna is discovered missing in the aftermath. What's more, this force is being commanded by a malicious creature wielding a terrible power that the ponies have actually heard of, but know nothing about.
Once again, Twilight and her friends must take up the Elements of Harmony in defense of everything they hold dear, but if Equestria is to have any real hope of surviving against this force, the ponies must first unravel the mysteries of the power that threatens them.
---
-some clarification: the "Lords" in the title is figurative.
-Multi-Act story (technically an epic. will be long). Each Act constitutes a "book" in the series.
Act 1 - A Tale of Two Sisters. Status: complete. Final word count: 72k
Act 2 - Shadow of Malice. Status: in-progress. Current word count: 98k
-Takes place mid season 3, before Keep Calm and Flutter On.
-This story assumes there's a one-year time frame for each season of the TV show, give or take a couple months here and there.
---
Was on hiatus from 4/18 - 8/18 due to lack of an editor.
Many thanks to BronyDad for his help with editing!
New editor as of October 2019: Vertigo22
-Jan 2020 to present: James Fire
Cover art by Tzolkine on DeviantArt. Unfortunately, the page 404s every time I try to look at it. This wallpaper was found on google and pinterest.
The time-stamp for Act 1 - The First Adventure is wrong. I revised it and re-released it on 3/1/15.
Chapters (29)