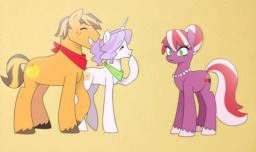 Source
Red June is a simple farm pony who has huge crush on a prince, Crème is a high society pony who wants to try how a simple life tastes like. Today they both will fulfill their dreams.
With just a small bit of total catastrophe.
But hey! At least it will have a happy end.
Or maybe not, who knows.
(A/N If everything will go as planned, this Fic will consist of 4 chapters, 1st one most probably being the shortest as he is just a prologue, kind off.)
Hey here we go, main characters of the story were all created by awesome kilala97!
Cover art orignally made by kilala, I am however using colored version colored by UndergroundCat, which I am using without a permission ( I sent him a note where I asked for permission but didn't get answer yet) so if he won't want me using it I will change it.
Chapters (2)