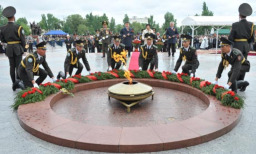 Source
(ONESHOT)
As the month of May wanes, ponies all over Equestria light candles and other fires to remember those who have passed on to whatever afterlife awaits them.
Princess Celestia is no exception, even if all of the candles she will be lighting are hidden in the privacy of her bedchambers.
This year, however, something new has happened.
A friend of hers, with whom she has recently reunited, is also observing this time of reminiscence.
But what will that one be doing to remember the fallen and the lost?
TAKES PLACE WITHIN THE TIME FRAME OF SEASON 2 OF "FRIENDSHIP IS MAGIC"
Chapters (1)