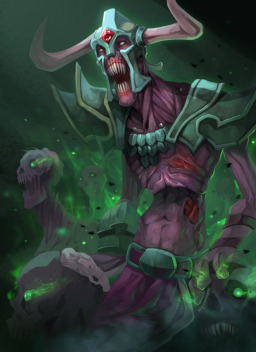 Source
[DOTA 2 Crossover]
Takes place at the very beginning of Season 3
The Undying is an ancient, once-human, undead general of endless armies. The main conductor of the Song of Death, written so painstakingly by his Dead God. Not even a stitch in space and a slip in gravity can stop his devoted crusade. Finding himself in a new grave and a new world, he continues his quest. With new power and ancient resolve, the towering abomination sets out for the new, ripe land. What can possibly stop him? Can Equestria truly fight back such a damning assault?
One thing is for sure - with the newcomers' arrival, their world is most certainly turning into a Nightmare.
---
Originally written in collaboration with Rinderin. I have now assumed control due to circumstances.
Cover art HERE. That is Undying.
Alternative cover art HERE. That is our hidden friend, Atropos, the Bane Elemental. Shhh, don't tell anyone.
Marked Alternate Universe due to the drastic difference in how the Griffons are organized between the show and the story.
Chapters (10)