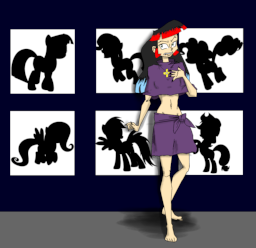 Equestria is a bright and shining kingdom. Its residents are content and safe in their idealic lives, thanks to the efforts of their benevolent princesses. And it has been as such for centuries. ...Or so everypony has always thought. But when an ancient sarcophagus is dredged up off the coast, Manehatten- and Equestria at large- will have to face the truth that there was something older in the world. A civilization and predators that moved through its shadows.
For before there was a world of harmony....there was a World of Darkness.
Now with cover art by Jake Was Here!
And fan art by CyanJames2819!
Chapters (14)