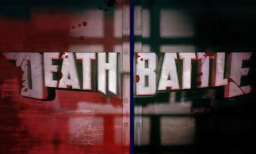 Every once in a while there is one character that defies all explanation and baffles the minds of geniuses the world over. Today, two such characters will be thrown into the field and all will find out who will win.
---
And remember... this is what I came up with without the hidden stash. Just goes to show you that you don't need to be high to produce something regrettable.
My Little Pony: Friendship is Magic belongs to Hasbro Studio.
Death Battle belongs to Screw Attack.
Other properties belong to their respective owners.
Rated Teen for mentions of weapons and use of the word h-e-double-hockey-stick.
Edit:
February 6, 2013: Remember back in last April when I thought this was going to be a one-shot?
Neither do I.
July 16, 2013: I hope I haven't made a terrible mistake by allowing fan fic suggestions for combatants. It'll take me forever to read through all of those works for potential abilities used. In other words, updating will happen at a pace that makes a snail appear to be performing a Sonic Rainboom. Oh well. It is what it is.
March 24, 2015: Spoilers are imminent when diving into this at any given point.
June 9, 2015: I may not respond to every comment, but I will read them. The same applies to any suggestions made in comments or PMs.
-Corollary (October 11, 2015): Multiple comments from the exact same user saying the exact same match up will not make the suggested battle happen any sooner. In fact, it may just deter me from even considering writing it at all. Please do not spam the comment section. Thank you.
Chapters (169)