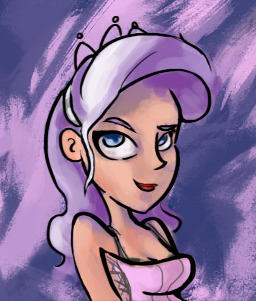 Okay, so this is my take 2 to an idea i had years ago and would NOT stay quiet in my head. The first draft, if anyone ever saw it, was terrible. This is by no means perfect, but it's infinity better then it was. This is chapter 1 of god knows how many, so hopefully I'll get another one up in a week or so. If not, well, no harm done I guess.
---
Ten years has changed everyone in ponyville, none more so then it's Children. Scootaloo has become the local legend, a dynamic stunts men with an attitude to rival those of her idol, and Applebloom keeps herself nice and busy with a booming business in construction and repair. Sweetie Belle is just getting her feet wet in her career, and none have taken greater strides then Diamond Tiara.
the old school bully has become wealthy and successful, just as anyone would have expected her to. But her treatment of others has not been forgotten, and so the young heir to the rich empire, is walled from any friend she could have had. This story is about tearing down walls, with the help of one short little mare, maybe the little princess won't be so lonely anymore.
now if only she could work on her attitude.
Chapters (2)