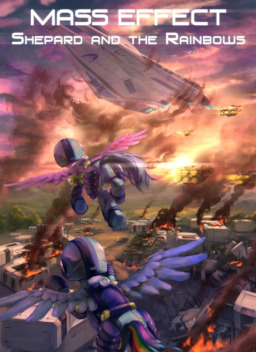 Source
Riley Jane Shepard was the oldest daughter of the family, and she lived happily with her parents and younger sister on the small colony planet Mindoir, on the edge of human occupied space. She had everything she could ever have dreamed of, but all of that changed when slavers attacked.
Rainbow Prism, father of Rainbow Dash, had dreamed of being a Wonderbolt since he was a foal, and he was proud to announce to the world that he had achieved that dream at such a young age. Happily married to the beautiful Firefly and with a devoted fan and admirer in his young daughter Rainbow Dash, Prism could not have dreamed of his life ever going better.
Neither realized how quickly their lives could change. Neither realized the blessings that could come from such a tragedy.
Neither realized that the coming years would shape the savior of the galaxy.
A Mass Effect/MLP:FiM Crossover, the First Story in the First Meetings Universe
1. Mass Effect: Shepard and the Rainbows
2. Mass Effect: Shattered Record, Broken Wings
3. Mass Effect: Gathering Storm (Mass Effect One)
4. Mass Effect: One Wrong Step (Equestria Girls Side Story)
5. Mass Effect: Harmony Lost
6. Mass Effect: Fight for the Lost (Mass Effect Two)
7. Mass Effect: The Darkness Breached (Mass Effect Three)
A. Mass Effect: Side Stories
In the fell clutch of circumstance
I have not winced nor cried aloud.
Under the bludgeonings of chance
My head is bloody, but unbowed.
Featured 9/11/2014
Chapters (23)