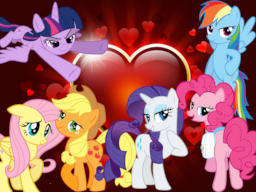 This story is a sequel to Let's Be Evil!
---
Pinkie Pie's at it again! This time, she comes up with a game for her and her friends to play wherein they randomly choose eligible stallions out of a bag, and have a month to make a love connection with the stallion they choose.
Seems simple enough, right?
...yeah, right.
COMMENT-DRIVEN STORY
Please remember to vote!
VOTING IS NOW CLOSED.
Chapters (6)