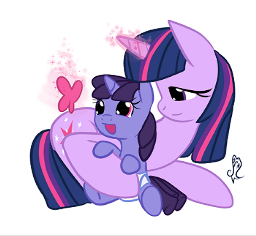 Twilight Sparkle, Princess of friendship. The element of Magic. With a knowledge most ponys only dreams of. Who has seen all of the four corners of the world. Who has defeated the deceiving Discord, the cunning Chrysalis and the terrible Tirek.
But tonight, she will face her biggest challenge yet.
To put her own four year old foal to bed!
Thanks and quite a bit of gratitude to Vivian for proofreading, editing and making the story better!
Cover art by 1110Soulite and of cource used with permission!
Chapters (2)