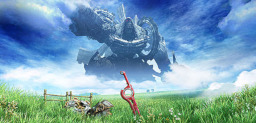 Spoilers in the comments
It was a day like any other for Twilight Sparkle. Everything changed, however, when she received a package mailed by Daring Do. With the ring, she unintentionally breaks Equestria, sending her into a new world. Teaming up with the Homs named Shulk, Twilight finds herself in a struggle greater than she can imagine. She must find her friends, find a way back home and defeat the Mechon forces.
Click here to see Art and Skill Tree progression.
Crosses over with Xenoblade Chronicles. Takes place post Season 4 and during the story of Xenoblade Chronicles. Xenoblade Chronicles is owned by Nintendo and Monolith Soft.
Chapters (18)