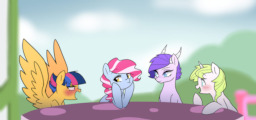 Source
Starburst got invited to one of her friends girl talk, she didn't think that anything good can come out from this.
Well she was right more or less.
Short FanFic which is more or less a prequel to Guy Talk
Once again almost all characters used in the story were created by kilala97 if by any chance you still didn't check out her deviantart, go do it now.
Seriously it's awesome.
Now with a reading!
Chapters (1)