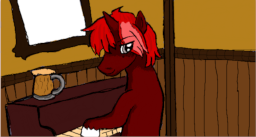 There is a bar in Ponyville run by Berry Punch that the locals love to go to. Some come to hang out while others come to forget their sorrows. There is a small flat-top piano in the corner of the bar. Every night at nine, a pony sits at that piano and plays until the bar closes. These are the audio logs of that pony, Staccato Diva.
Edited by: Happy Jackal and the great guys over at SALT (A pony fic reviewing crew)
Cover art by: my good friend Kelly.
Chapters (1)