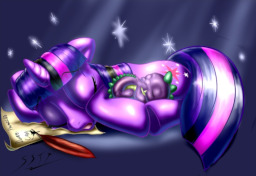 Big thanks to Princess Glitzy for editing.
A few days after Tirek's defeat, Twilight went into the Library of her new castle and didn't come out of it for days. Now, her reason for spending so long inside is revealed. She was working on a special Regression Spell so that her friends wouldn't all die too soon before her.
However, it is yet to be perfected to work on ponies... or dragons.
Spike startles Twilight while she performs the spell on a plant, it hits Spike, turning him into a hatchling, like when Twilight was a filly. What's more, the spell reacted badly to Spike's dragon biology, causing it to become permanent, meaning he must grow up all over again.
Now Twilight has become the unexpected mother of the hatchling dragon. But... maybe she was already like his mother?
Rated teen just to be safe, but probably will bring it down to Everyone later
Featured 23/8/2014 shortly a hour after it was released! Thanks, eveypony!
Another idea given to me by PartyponyXD
Chapters (2)