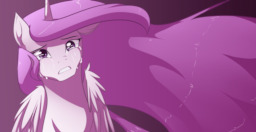 Source
"For want of a nail the shoe was lost;
For want of a shoe the horse was lost;
For want of a horse the battle was lost;
For the failure of battle the kingdom was lost—
All for the want of a horse-shoe nail."
A thousand years ago, Celestia had to banish her sister to the moon because of her tampering with dark magic. After centuries of blaming herself for her sister's loss- the monarch who abdicated from the throne and has been wandering the Equestrian Republic of States has returned to warn of the coming war that she couldn't face.
If only the Ministers of Friendship could hope to trust a pony who leveled Canterlot in grief a thousand years ago and left the sun and moon frozen in the sky in hopes that her lost sister could see that a twilight world could be their domain. Repenting for the sins of the past, an alicorn wanders with her daughters. After all, what use is a Princess of the Sun if the daytime caused her sister's fall?
Chapters (1)