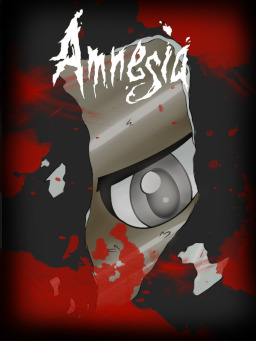 Source
Equestria has survived horrible disasters and overcome cruel tyrants over the course of thousands of years. No matter the danger, it persevered through the magic of friendship. It is a bright, colorful world, and its pillars are kindness, loyalty, generosity, honesty, laughter and magic.
If so, why is it so empty, bleak and abandoned?
Why do horrid visions plague his mind, pouring through into reality?
And why can't he remember his own name?
Approved by Twilight's Library.
---
Proofread by BookMarkofCanterlot. Without his assistance, this story would most likely have taken a few more... years to come out. Realistically speaking.
Most editing and Google Doc conversion by BLACK M3SA.
Cover art by Squji.
This is a cross-over with the Amnesia game series. Do mind, however, that if you are not familiar with the universe, it is not an issue - the most you will be missing out on is going to be a few references and the realization that the plot of the story is less original than it might seem. In case you feel utterly confused, then don't be hasty in blaming it on the crossover - it probably means that I did what I intended to do. Venturing into spoiler territory, this story does not contain any characters from the Amnesia game series, or Amnesia-related media for that matter. By TVTropes' standarts (I sincerely apologize for the mention, but take no responsibility for the countless hours you are likely to spend browsing it), it is an Elsewhere Fic for Amnesia. Yes, I am aware that links shine through spoilers. Bummer.
In another important detail that counts as a spoiler, the "Gore" tag does not stand for "Torture Porn". This story has significantly less body horror than any of the Amnesia titles. Granted, there are going to be a few squicky parts, but nothing horribly outrageous. Cupcakes veterans will be disappointed.
The dialogue formating has been reported to cause readers severe nausea, anxiety and an occasional death. Unfortunately, dashes ended up being the most optimal choice in the long run. Inner monologue uses quotation marks and spoken lines use em-dashes.
The story is going to be updated a chapter per week, as long as I have access to something that has a semblance of an Internet connection.
Chapters (11)