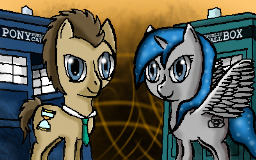 Source
I never thought I was special in any way. Not until my whole life had been turned upside-down. Being the daughter of two of the most powerful beings pony kind has ever known was one thing, but the list of problems will only continue to grow with my family. And on top of that, after twelve years I still haven't discovered my cutie mark. Hopefully this family trip to Saddle Arabia will be enough to set this family straight. But, for both time lords and alicorns, where they go, trouble will always follow. My parent's stories should have been the herald for my future. My name is Silver Star, and this is only the beginning of my story. The story of the one family that tore Equestria apart.
Co-writers—Arched Lightning and Funnybunny514
OC's—Silver Star, Clockwork, Rosaline, and Buttercream Sundae by: Funnybunny514
Edited by—Arched Lightning and Funnybunny514
Cover Photo- Arched lightning.
Chapters (1)