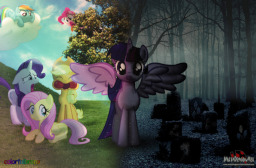 Twilight Sparkle, a magnificent alicorn and now a joint ruler of Equestria, watches quietly as her closest friends all die around her, one by one. However, the more she watches each death occur, one fact nags at the back of her mind: what if her friends deaths aren't just accidents? More occur, then the letters come. They all bear one repeating request. Give up the throne, or watch more ponies close to her die. That is, if Twilight can find the murderer first.
-Inspired by the movie Nonstop.
*I did not put the real murderer in the list of characters in this story. The character tag will be added at the end of the story, to prevent spoilers.*
-Coverart is courtesy of MetaDragonArt on DeviantArt. Thank you!
Chapters (10)