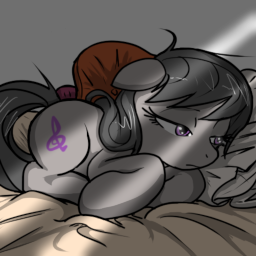 Source
This story is a sequel to Mass Effect: Shepard and the Rainbows
---
It has been ten years since Equestria was attacked by a race of aliens known as the Batarians. The galaxy has moved on, but not everyone has forgotten. Octavia Melody can never forget the day that her wife died in the raid. Now one of the most successful musicians on the Citadel, a space station that serves as the heart of all governments in the galaxy, she spends her days trying to forget what she has lost... until a simple arrest turns into an earth shattering discovery that could change the balance of power in Citadel space.
Nothing will ever be the same again.
Octavia/Vinyl Scratch
A Mass Effect/My Little Pony Crossover, the Second Story in the First Meetings Universe
1. Mass Effect: Shepard and the Rainbows
2. Mass Effect: Shattered Record, Broken Wings
3. Mass Effect: Gathering Storm (Mass Effect One)
4. Mass Effect: One Wrong Step (Equestria Girls Side Story)
5. Mass Effect: Harmony Lost
6. Mass Effect: Fight for the Lost (Mass Effect Two)
7. Mass Effect: The Darkness Breached (Mass Effect Three)
A. Mass Effect: Side Stories
Alternate Universe, on both sides of the crossover.
Chapters (19)