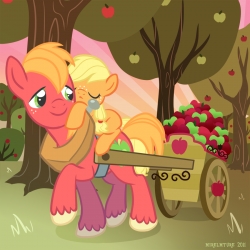 Please tell me what you think! It really helps me out as far as having the motivation to keep writing!
Anyway... hope you enjoy!
Sibling Rivalry is one thing, but a broken heart can take away more than a traditional sense of Apple Family Unity. Applejack has always felt like she was the little sister of Big Macintosh and never anything else. Her strive to break free from the bondage of her brother's reputation might cost her something she didn't know she would lose...
Chapters (8)