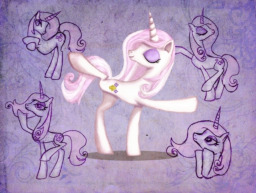 Source
Told in second person, "You" are the main character in this story. After living in Equestria for a bit, you decide to take a vacation to a prestigious city known as: "Las Pegasus." After a bit of sight seeing, you come across a mare who may very well change your life and make it... interesting, to say the least. And upon meeting her, you learn that sometimes things aren't what they seem on the outside and that image of any individual can be very deceptive. Anyone can put on a clown nose and pretend everything is okay while hiding behind a fake smile. But what are they really hiding behind the fake smile? And what will they do to keep it hidden?
The idea for this story originally came from an episode of an old TV show called M*A*S*H. Not gonna give the synopsis of the episode because it'll spoil it. Also, story's a one shot. So if you're expecting an update or further chapters, the end result MIGHT (most likely) disappoint you, so don't get your hopes up.
Even if this story is told in 2nd person I gave a name to the main char for the reason of making it flow a little smoother and a little easier to write. It's the name I'd use if I was a reader rather than the writer. Don't like the name? That's okay! Use someone else's name or even your own! You don't need my permission.
Chapters (1)