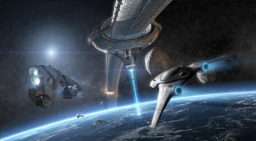 Source
In the process of an EXTENSIVE rewrite. Will be updated in the coming months.
This isn't the story of the heroic crusade against tryany. The good guys don't win. One year After The Fall of the Atlantis Confederation, Omni Soldier Dax 007 is still on the run. He has a few advantages, his skills as a super soldier, his A.I. caretaker, AJAX , and the most advaced ship in the galaxy.
While fleeing an Earth cruiser, Dax makes his way into a nebula and finds something he never expects to find. A planet inhabited by humans. Only these humans are different. Some can fly with angel wings and walk on clouds and control the weather, Others can do magic like feats, possibly even real magic, And others still have strength to rival his.
Vinyl Scratch is dealing with loneliness when a stranger saves her life. He has the strength of the Earth people, but the powers of the Unicorn people. He can even fly like the Pegasus people but he has no wings.
What will happen when this last remnent of a war long lost lands in a place that looks like paradise? A more trusting place, a free place, a place that survived The Fall.
Note: All Characters are Humanized.
None of the names are Changed.
None of the places' names are Changed.
All characters are their same old selves.
Chapters (0)