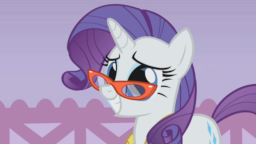 By day, Rarity works as an immensely talented fashionista with a knack for fitting customers into amazing outfits. By night, she takes on the identity of the fanficiton author extraordinaire known as 'SilentRainbows' on PISfiction. Silent, an obsessive fanmare of 'My Little Human: Progress Is Scientific', has a knack for steamy shipping, fitting characters into the most erotic situations. She playfully chats with her followers, but one other author in particular, going by the name 'The-Big-Humie' or TBH, has a talent for leaving sweet comments and writing tender scenes that leaves her swooning.
Rarity can't take her budding friendships and possible romance very far, feeling so odd towards these semi-anonymous users that still represent real flesh and blood ponies. She sets up a clandestine get-together between some of PISfiction's most prolific authors. She vows to herself to find TBH and turn these online erotic fantasies into a wonderful reality.
I came up with this fanfic out of a request by RandomPerson. It's currently rated 'teen' for 'not yet'. The excellent story 'The Moony Maiden' by Dubs Rewatcher in particular gave some great inspiration, as did many other stories, too many to name. Thanks for reading.
Chapters (7)