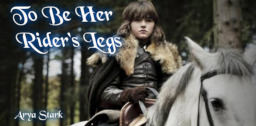 Bran Stark is a cripple, doomed to never walk or run again. But with a special pony, he may just get that chance again...
Thrown from the wall, Bran Stark became cripple at a failed attempt of murder. But the young lordling wouldn't settle for staying in bed the rest of his life - with the help of a friendly dwarf, he was gifted a pony just for him, trained for him and his disability.
Littlecloud was once just a normal pony of Equestria, but after a twist of fate, she was captured and brought to earth, and became that one special mount of Bran, learning to work together as rider and steed, forging a bond tighter than sailor knots.
Chapters (1)