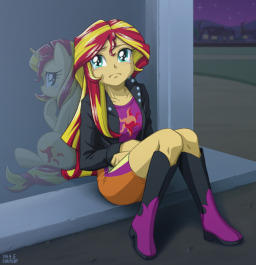 Source
No one has seen Sunset Shimmer in a week after the Fall Formal. Principal Celestia is getting worried. She doesn't really know much about Sunset Shimmer, but she is aware that she is alone in this world. When Celestia finds Sunset it is worse than she knew. Now, Celestia moves to heal the heart of the girl from another world. It is to be a difficult and hard fought battle against Sunset's own perception of self.
Can Sunset turn her life around from the downward spiral that it is in? Or is she right to believe that she is only a demon and deserves only the worst in life? Sunset's journey to forgiving herself starts with allowing her mentor's alternate into her life, but does she deserve to have the chance to disappoint two Celestias?
---
Now being edited by devas and The Albinocorn
Featured! August 18th 2014! For all of 10 minutes! Still counts!
Freatured again! September 15 2014! For a much longer time! Last time I update this bit though.
Chapters (4)