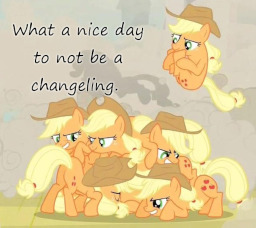 Source
Author's note: this story is still undergoing occasional editing as I figure out what the hay I'm doing. Some scenes may be added, modified, or removed.
Two months ago, a changeling posing as Rainbow Dash tried to abduct Twilight. Nopony was hurt, but Twilight became a bit paranoid--how could she make sure something like that wouldn't happen again? The best thing she could think of was to invent a spell, empowered with her full might as princess, that would forcibly remove the disguise of any changeling in the vicinity.
It's testing day, and Ponyville's about to get twenty percent buggier . . .
AU taking place between seasons 3 and 4. Trigger warning for one scene of implied dubcon.
Chapters (6)