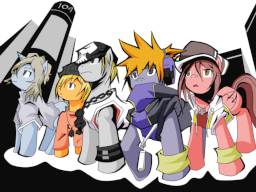 Source
Going to be a alternating version of the World Ends With You game with different characters taking over the main cast. There will be 21 days of games which the Composer will decide who shall live and who shall be erased, of course this game will be a intresting one.
Found the funky bit of art and had to do a fanfic when i couldn't find the story to go with it, but meh whatever i can use both tehehehe. Check out the character sheet so you don't get confused, and yes i shall be using quotes from the game, along with ones i make up for my OC.
Due to some copy right issues i shall be editing the mane story away from actual events from the game, so the missions might be different or completly changed however i shall try and follow TWEWY plot line as close as i can.
Have fun reading
Rhythm
Chapters (8)