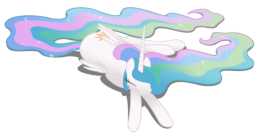 Source
This story is a sequel to Geoverse Prologue: The Last Of His Kind
---
Celestia was there as Anthony, who was the last human in Equestria, passed away.
She was heartbroken — but before he died, Anthony reminded her that she would see him again.
Now that Luna has returned, and been freed of Nightmare's corruption, that time has finally come...
AUTHOR'S NOTES
Commissioned by ARchy4288. Written in first person from Celestia's point of view.
ACTUAL WORD COUNT: 2,202
Chapters (1)