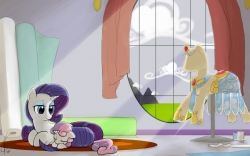 When Rarity is given an order for a dress, a series of unfortunate circumstances lead her to request the aid of Twilight Sparkle. When she discovers that Twilight has been studying time spells, she asks if she can help her recover some of her time. Reluctantly, Twilight agrees, but when she is performing her spell, something breaks her concentration causing the spell to become unstable, sending them 15 years into the future. What awaits them in a world where they have been missing for so long? Will they ever get back to their own time? Only time will tell.
*WARNING*
COMMENTS CONTAIN SPOILERS
(I LOVE feedback)
Art by Dreatos
- http://dreatos.deviantart.com/gallery/?offset=24#/d47n304
Seriously, check out his work. He is one of my favorite pony artists.
Chapters (14)