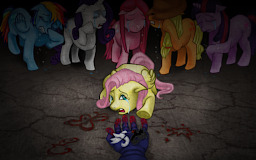 Discord is no more. But with his end, the Bearers of the Elements of Harmony have been robbed of a most precious treasure they failed to protect.
How does one cope knowing that one failed to protect someone dear to ones' heart? How does one live with the guilt?
What would one do to undo the greatest mistake of ones' life? And what would one endure to do so?
Alternate ending to The Lost Element following Mortal Chaos.
Cover picture provided by Bliss Franklin
Chapters (16)