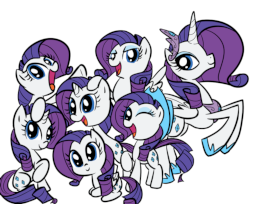 Source
The Grand Galloping Rarela, the most prestigious event in all of Rarequestria, is about to commence. However, it wouldn't be complete without Rarity making her grand appearance, along with the other rare six. Will the Elements of Fabulosity be able to defeat their surprise antagonist? Read on to find out!
Story for Yipyapper's birthday because he's a cool dude and if you like this fic check him out and stuff. Did I mention he was cool?
Big thanks to my editors SirTruffles, FloydienSlip and Flint Sparks!
Cover art found here.
Chapters (1)