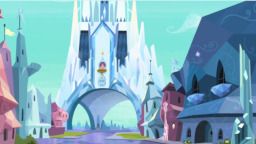 We all know the story of Hearth's Warming Eve, but the simplified legend all ponies remember belies how close we came to losing it all. Now, the discovery of the lost diaries of the survivors transports us back to that harrowing time when the world balanced on the edge of a frozen knife, and the heroism of eight adventurers pulled us back from the brink, laying the foundations of the diarchy we know today.
(Compatible with Canon and inspired by Nyx's Family)
Now available in audio format.
Chapters (16)