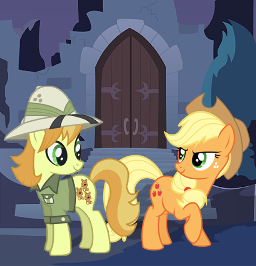 Source
Written as part of the "Daisy Chain" collaboration, a new crack shipping prompt series. Previous part here - Daisy Chain Part 2: Maud Pie x Applejack
EDIT: Next part here - Daisy Chain Part 4: Teddie Safari X Pinkie Pie
---
Applejack receives a letter from an old friend, with a cryptic message to meet in Dodge Junction. Something tells her not to trust it, but with her helpful nature, she can't keep herself away.
---
A/N: Fair warning, this is something very different from what I usually write, as I wanted to try something new

If you want to find out more about, or get involved with, the Daisy Chain project, check out fimfic4ever or send him a message. Incidentally, he also put together the cover art (link) for this, so big shoutout for that - thanks man!
Chapters (1)