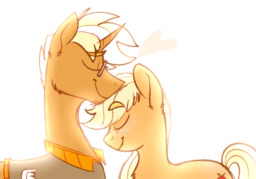 Source
What would you do if you wake up one morning to find yourself living a completely different and alternate life?
What would you do if you suddenly find yourself married with foals?
What if you are now married to the pony you least except?
Applejack is about to get the shock of her life as she tries to navigate a world where she is now a mother and wife to a stallion she never had feelings for.
An unexpected TrenderJack tale.
Chapters (9)