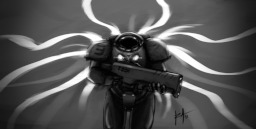 A Knight Crusader from the Umojan Vatican answers the call to arms and leaves his homeworld to fight in the Vatican's ongoing crusade against the Khalai heretics. Before he left, his wife made him promise to return to her no matter what.
He did return... just not the way he had expected...
---
Side story to The Koprulu Sector which is a crossover with Starcraft. Feel free to read the lore to get a better understanding of the story.
Chapters (4)