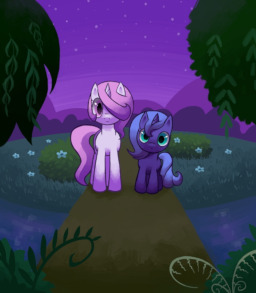 As fillies, the royal sisters were as playful and rambunctious as any other foal. They played around their family's castle and gardens, not a care in the world...
Except being sent to bed without dessert!
But they soon find when they venture too far in the Everfree Jungle, a creature they've never seen before comes into their lives.
The story told of Equestrias most important picnic. And most important friendship.
(Romance tag for later chapters, no foalcon here)
They ARE alicorns despite the cover art
Chapters (23)