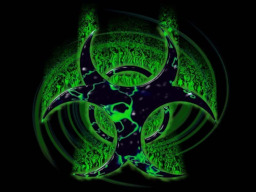 A strange epidemic has struck Equestria. It causes Pegasi to rip off their wings and throw themselves to their deaths. It causes Unicorns to lose their magic and eat their own horns, and it causes Earth ponies to tear out their manes and tails and exhibit dementia like symptoms. It leads to death in all three species.
Mass suicides break out in Cloudsdale. Celestia heads to Cloudsdale only to return with the same symptoms. Luna then gets a letter from Twilight saying that the Earth ponies of Ponyville have started tearing out their manes and tails. A second letter comes from the new Unicorn colony that many of the Unicorns are losing their magic. Things go from bad to worse when Celestia loses her own magic leaving Luna to raise ans set the sun as well as the moon.
Luna brings Twilight, Zecora, Regalia the Griffin medic, Ramoth the dragon healer, and Zaphod the Minotaur doctor together in Canterlot to try to solve this mystery.
(Author's notes: Prions are real and all the medical stuff in this piece is all real too. A Prion is a protien that attacks the brain by destroying the neurons and causing strange behavior much like what we see in Dementia and in Alzheimer's. Feel free to give criticism and ask questions if you don't understand something. I'll be very happy to answer your questions to the best of my ability. A lot of research went into this. Enjoy! (No worries, no gore))
Chapters (2)