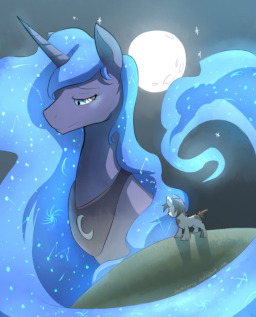 Source
The Royal Guard has intensified their training regimen after countless attacks on Canterlot. They're tougher, better, faster, stronger – and, after months of hard training, they only accept the best of the best. The Night Guard, the elite soldiers trained to protect Princess Luna during the evening, are similar to the Royal Guard, only ten times tougher.
Undeterred by the challenges that await him, Pipsqueak (now a full grown stallion) signs up to join the most elite soldiers in all of Equestria... The Night Guard.
He isn't doing it for the fame or glory. Pip is motivated by one goal and one goal only: to fulfill a promise he made as a foal. He will become the guardian of the night.
This story is technically a sequel to The Dream Stalker, but it is not necessary to read that story first in order to understand this one.
[img]http://i.imgur.com/6MrWqNZ.png[/img]
(Featured on Equestria Daily!)
(Artwork from stupidyou3 on Deviantart)
Chapters (24)