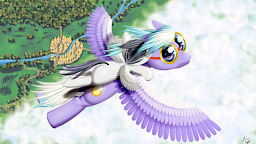 Source
Cloudchaser is among the gifted few who had the chance to join the Wonderbolts Academy. During an extended break period, as she returned home to Cloudsdale to catch up with her sister, she notices a colt that she babysits crying because he can't fly well, which means he can't visit his brother, Thunderlane. Can Cloudchaser lift Rumble, and his spirits, into the sky?
---
Special thanks to Fantasia Archsage and Smaug the golden for taking the time to edit and proofread this story. Be sure to check out their work as well.
---
Thanks to FreeHomeBrew of The Living Library Player Society for the wonderful cover art.
Chapters (1)