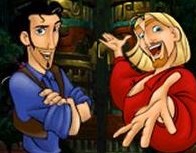 They came for the gold... They stayed for the adventure.
In 1519, In the City of Seville, Spain, Our Two Con Artists Miguel & Tulio win a map to an ancient city of gold called El Herdado, during a rigged gambling match. After they evaded capture for cheating with loaded dice, they accidently ended up as stowaways on an ship, but manage to escape in a boat. The two landed at an unknown shore and with the help of the map that they "won", They found the Ancient City but weren't expecting to meet it populated by cartoon looking equines and be worshipped as gods.
Will they play god enough to steal the gold and get out? Or will they be found out and be used as sacrifice?
WARNING! The sisters and parents can turn into anthros and back into normal ponies (Max of 6 categories). Don't instant dislike if this is the reason... Just leave and forget about this if you hate anthro, but your going to miss a lot of comedy fun.
If you want to make a better picture for the cover then by all means do!


This was inspired by watching this : ONE MORE ROLL!!!
Chapters (3)