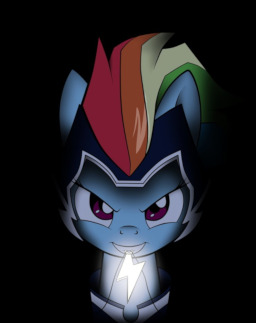 RD, the fastest pegasus you've ever seen. You might also know her as her hero alias, Zapp from the Power Ponies. But there is something about her you may not know, Whilst taking notes, she trips into the machine as it's starting up and is zapped with its power. She wakes up in the hospital with a thunderbolt necklace near her. She then discovers her powers.
After training with them, RD becomes Zapp, the mare who controls the weather. However, there's another pegasus out there with the same powers who wants her gone. Zapp must use her powers to save herself and Cloudsdale!
Part of my new Power Ponies series. One of six.
Chapters (2)