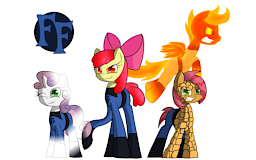 Source
Princess Celestia was looking for four young ponies to share in the experience of a lifetime, a trip to outer space. The Cutie Mark Crusaders are up to challenge, but an accident grants them fantastic powers and they decide to use their new abilities to explore the unknown and mysterious.
But when a ruler of an old race of sub-aquatic ponies come to Equestria to seek revenge for their destroyed city it's up to these Fantastic Fillies to defend their home.
This is a cross over with the Fantastic Four comic books and shares it's universe with The Amazing Spider-Pony. It's not necessary to read ASP before reading this, but it does explain a few things.
Credit to the fantastic Mechanized515 for the cover image.
Chapters (2)