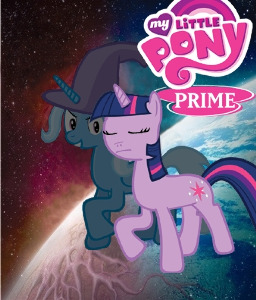 Source
Gore
Adventure
Crossover
Dark
---
After an odd blue meteor crashes deep within the Everfree Forest, an insidious new substance spreads throughout Ponyville, and then to all of Equestria, corrupting the ponies it ensnares. Ponies everywhere must fight this new threat, but... they must also fight their friends, and even themselves.
Special thanks go to Silent Machina for being awesome and for helping to edit this story.
UPDATES:
29 June- Moderate changes to Firework Flare (chapters 2 through 5); he's now less of a Gary Stu. Also, minor changes in chapter 5 dialogue.
4 June- minor dialogue change in Fluttershy's scene in chapter 8
16 May- IMPORTANT UPDATE: The Griffins' role has been taken over by the Changelings; also, Captain Allbright was replaced with Shining Armor as Captain of the Guard; also, minor dialogue fixes and grammar/spelling fixes
17 March- fixed more grammar issues, modified a little dialogue here and there (nothing major)
26 November- Added chapter number as part of the title, fixed up some grammar issues
23 October- Modified Part 1, Celly/Luna dialogue