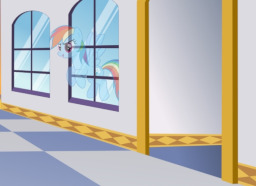 It finally happened as Twilight always knew it would. The first of her friends had died. The Element of Loyalty too. Not loyal enough to stick around. No, that was the depression talking.
And the lack of sleep. Something was prowling the halls of her castle at night and, for some reason, she was the only pony that ever heard it; although, one guard did mention something strange happening to the lighting once.
It could not be ghosts. Their very concept made no sense. Intangible yet able to hear? What a contradiction.
But just in case…
Chapters (1)