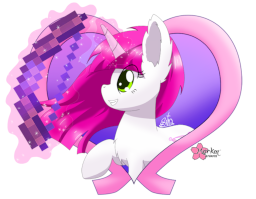 Source
Everyone knows the story of Princess Twilight; she was taught by Celestia, harnesses the Element of Magic, and she's ascended into her title of royalty with the help of her friends who also hold Elements of their own. But, what of other apprentices taught by the Princesses?
Lovestruck, gifted with the ability to harness Love, has been tasked with a mission by her mentor, Princess Cadence: to travel across Equestria and learn lessons from firsthand experience so that she may learn her talent more thoroughly.
In this journey, Lovestruck will encounter romantic hi-jinks, new friends, potential rivals, and adversity from those who doubt her talents. Will Lovestruck be able to understand the gift she has been granted?
---
This story has revoked submission and has been resubmitted, so the comments below that refer to events that don't take place in the story are irrelevant. Please keep this in mind.
This story also takes place just before the Season 4 premiere. Events taking place in the season will be mentioned in due time.
Lovestruck is not my OC. She is a character created by Hasbro and is presented in the My Little Pony Gameloft game. Please be aware that this is merely an interpretation of a character presented in merchandise who has yet to be fully developed by her creators.
Chapters (9)